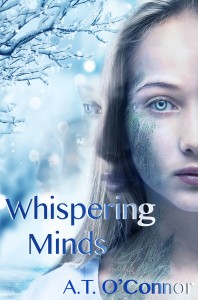 Welcome to Elephant's Bookshelf Press. We're a traditional publisher of fiction and (eventually) nonfiction. Quality writing is the mainstay at EBP, and we pride ourselves on finding literary gems that might otherwise be overlooked.
In November 2013, we published our first novel, Whispering Minds, by A.T. O'Connor. It is available via Amazon in electronic format and print, or through CreateSpace. It is also available via Smashwords, where it can be downloaded for a wide variety of e-readers.
To date, we've also published the first three anthologies in a series of the seasons, with the summer split into two anthologies — a total of four books.
Spring Fevers (Spring 2012) takes readers on a journey through relationships, while The Fall (Fall 2012) screeched to a tentative halt with tales from the apocalypse. Finally, Summer's Edge and Summer's Double Edge (Summer 2013) examined relationships at a turning point.
We will complete our Season Series this winter with stories of regret. The stories are currently being edited and we will reveal the cover within the next few weeks.
Thank you for joining us at the Elephant's Bookshelf.
Matt Sinclair